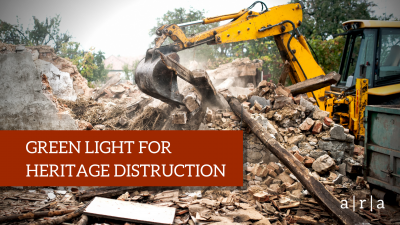 POSITION OF THE "ARCHITECTURE. RESTORATION. ARCHAEOLOGY" ASSOCIATION (ARA) REGARDING THE LEGISLATIVE PROPOSAL FOR THE ABROGATION OF ARTICLE 24 A) OF THE LAW NO. 50 DATED 29 JULY 1991, REGARDING THE AUTHORIZATION OF THE EXECUTION OF CONSTRUCTION WORKS AND CERTAIN MEASURES FOR THE REALIZATION OF DWELLINGS
On 20 March 2018, at the initiative of Florin Iordache and Ion Calin, members of the Social Democratic Party (SDP), a group of 14 deputies (13 SDP deputies and 1 National Liberal Party deputy) filed with the Permanent Bureau of the Chamber of Deputies a legislative proposal aiming to abrogate Art. 24 a) of the Law No. 50 dated 29 July 1991, regarding the authorization of the execution of constructions and certain measures for the realization of dwellings, as modified from time to time ("Law No. 50/1991"). Such proposal was registered under No. BP 181/20.03.2018 ("Abrogation Proposal").
Article 24 a) of the Law No. 50/1991 to be abrogated reads as follows:
"The following activities are criminal offences (infracțiuni) and are punished with imprisonment from 3 months to one year or with a fine:
a) performing without a building or demolition permit or in violation of the provisions of such permit the works listed under Art.3 (1), b), c), e) and g), except as provided by the law."
Art. 3 (1) b), c), e), and g) covers inter alia the construction, reconstruction, extension, repair, consolidation, protection, restoration and conservation works, as well as any other works, regardless of their value, that are about to be performed on all categories of historical monuments provided by the law - monuments, ensembles, sites - including their annexes, identified in the same location - terrain and/or constructions, on constructions located in the protected areas of a monument and in constructed and protected areas established according to the law, or on constructions with outstanding architectural or historical value considered as such according to urban planning documents that have been approved [unofficial translation].
The same article also refers to the exploitation startup of quarries, gravel, gas and oil probes (sonde de gaze şi petrol), as well as other surface, underground and underwater exploitations. It results from the explanatory statement of the Abrogation Proposal that the main reason for the amendment proposal of the Law 50/1991 would be "decongesting" the Romanian courts, which are allegedly suffocated by "some thousands of cases regarding the execution of some works without permit, out of which 99% are sanctioned only by a simple fine".

It also results that the Abrogation Proposal would be justified by three situations supposedly observed by the deputies, for which they however fail to provide any proving documentation:
a) cases where the construction authorization older than two years have expired and not been extended in a timely manner, leading thus to the opening of criminal proceedings against physical or moral persons that failed to apply on time;
b) cases where "the persons who have saved money to pave (...) a road have been subject to criminal proceedings " as reported by the media"; and
c) cases where owners of tens of "monument constructions " that collapse monthly cannot "make any improvements to the facades" as the authorizations for such buildings are only obtained after "many years".
We are not making comments on the entire explanatory statement, which is not only grammatically deficient but also mediocre and lacking in substance We are only focusing on the core issue thereof: the Abrogation Proposal de facto annuls the obligation of submitting an application for an authorization to build before initiating any kind of intervention (via demolition, "improvements to the facades", etc.) on historical monuments, which would have a disastrous impact thereon.
Under the apparently legitimate pretext of decongesting the courts of a supposedly heavy caseload, this Abrogation Proposal aims at decriminalizing the act of carrying out without prior authorization certain works that affect historical monuments. And that is it. The Abrogation Proposal does not include the subsequent modification of Art. 26 of the Law 50/1991 which defines the contraventions that are punishable. Consequently, the carrying out without prior authorization to build which is included under Art. 3 (1) b), c), e) and g) should not constitute a crime (infracțiune) nor contravention (contravenție), in other words such actions might not be punished at all.
Though, assuming that the Abrogation Proposal will be amended in such a way as to address the explanatory statement filed by the deputies. Under its present form, we can only imagine that its intention might be to convert the crime of performing works affecting historical monuments and surface exploitations etc. without prior authorization into a simple offense (contravenţie) that would be only sanctioned with a "simple fine", as the Romanian courts allegedly rule "in proportion of 99%" of such cases. (Nb. The Abrogation Proposal does not include any objective study that would demonstrate wherefrom the deputies have obtained such figures and on which other concrete data they were relying except stories from the media).
However, transforming these criminal offences (infracţiuni penale) into simple offences (contravenții) does not only reduce hypothetical courts' caseload, but also has a more crucial and damaging consequence. The fact that the destruction of a historical monument without prior authorization is currently considered as a criminal offence (infracțiune penală) reflects that the Romanian legislator considers this violation as a serious breach of the social order. Thus, transforming this criminal offence into a mere contravention places the destruction of a historical monument or the startup of surface exploitations among simple administrative offences (such as parking or speed limit violations). Consequently, destroying a historical monument or starting surface exploitations of natural resources which, at present, at least on paper, are punished with jail time or a fine, will be punished - as the deputies contemplate- with a simple fine not exceeding 100.000 RON (i.e. the maximum amount for contraventions provided by the Law 50/1991).
If the startup of surface exploitations of natural resources without prior authorization would not constitute a criminal offence any longer, but only the continuation of such works without authorization might qualify as a crime (Art. 24 b), then this provision would allow the opening of mines and surface exploitations for precious metals (gold, etc.) without any authorization, following the principle that it costs less to pay a fine than to wait for an authorization to be issued.
Should the Abrogation Proposal be adopted, it would inaugurate a far west state of affairs, allowing anyone to build or "accidentally" demolish a historical monument or open a surface exploitation using cyanide wherever and however they please, without risking anything but a fine of maximum 100,000.00 RON (approximatively 25,725.00 USD) an amount easily written off by the real estate/land or exploitation investment schemes! While for many Romanians this is a massive amount of money, it is to be understood that it only represents a trivial amount of cash to the real estate promoters and/or surface exploitations or gas and oil drills investors.
The Abrogation Proposal gives a green light to the destruction of historical monuments and the national and international heritage and reflects, if passed, not only the total lack of concern of the deputies for the protection of the Romanian cultural heritage but moreover their intention to systematically and actively destroy it, deliberately and with guilt.
The Abrogation Proposal is an initiative that rhymes more with national treason than with the pretended concern for reducing Romanian Courts' caseload. This is a situation is of unspeakable gravity which projects us Romanians as a nation in the same league of culture-destroying Taliban.
Dr. arh. Monica Mărgineanu Cârstoiu
President
Prof. Dr. Dan Mohanu
Vice-president